Kubu's Connecting Villas for Families and Groups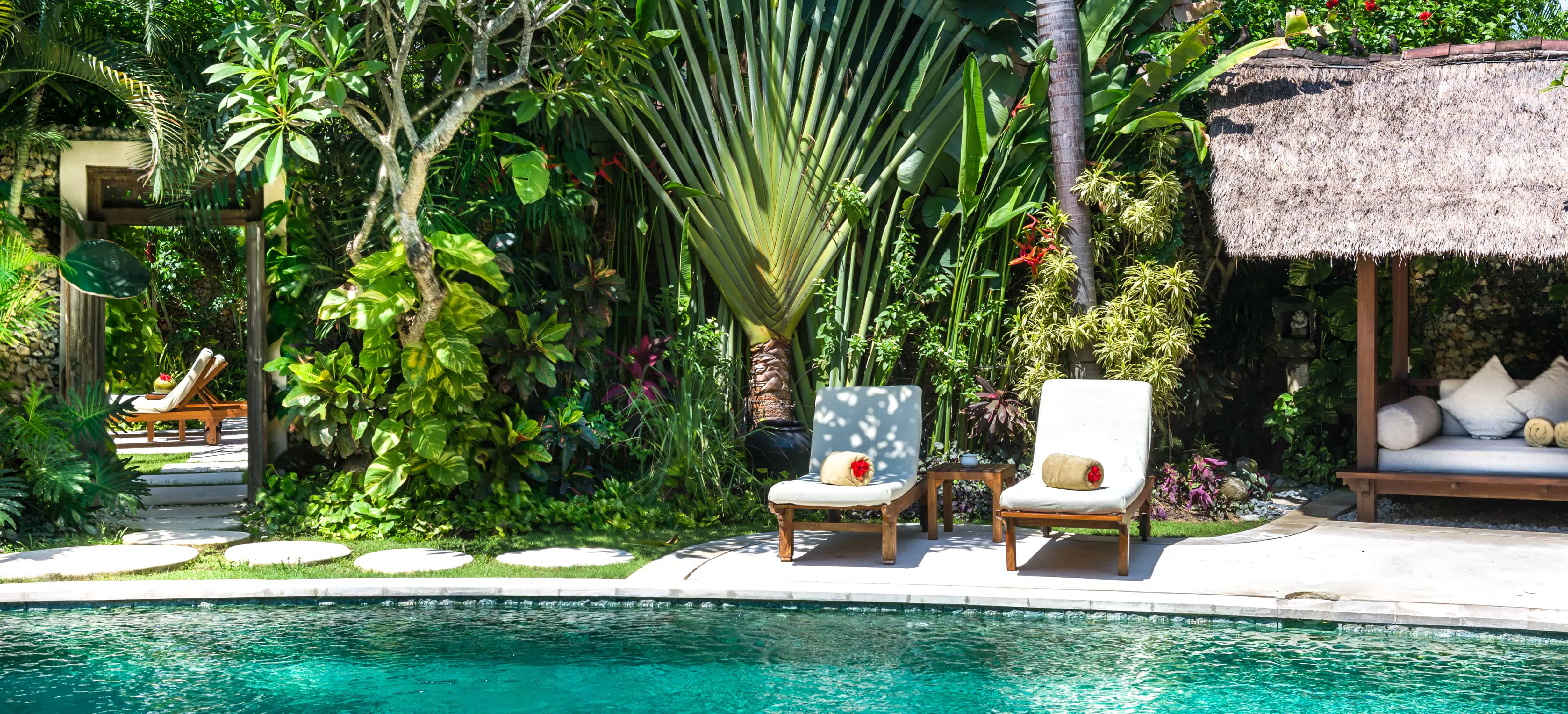 Our Connecting Villas are the perfect solution for groups or family holidays. Our villa resort comprises 17 private villas, of which, many can be combined to create the ideal family villa holiday. A selection of our private villas have secret access to the adjacent villa; simply step through a hidden door in the villa's enclosed walled garden into the interconnecting villa, it's like discovering a new tropical paradise.
Holidaymakers, travellers, friends and extended families can book our combined villas to make 2, 3, 4 or 5 bedrooms and enjoy the privacy of their own private villa, with their friends, grandparents or teenage children next door, interconnected via the secret antique garden door into an adjacent second private villa. Or book a 3 and 2 bed villa to make a perfect 5 bedroom connecting family villa. Our
Villas 3
and
Villa 6
are the ideal solution for this combination. It means friends and family can meet up and enjoy a shared BBQ in the garden or sample our excellent room service.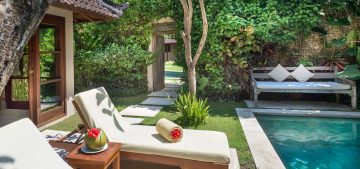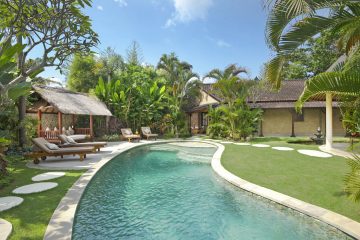 If the teenagers on a family holiday want to stay up all night listening to Kubu's pre-loaded tunes on the IPod then Mum and Dad can enjoy the peace and tranquility of their own lounge in their own interconnected villa, we suggest villas 6 and 15 for great fun, family get togethers; or if kids want to lie in til midday every day, nobody needs to bother them, they can just lock their interconnecting door and turn off the phone.
It gives parents the safety and security of knowing their children are close enough to watch over from a distance and for the older children to know they have their own independence via a lockable garden door.
Likewise if the grandparents wish to listen to Kubu's classical pre-loaded play list on the iPod, they certainly can without bothering any of their children or grandchildren.
Our connecting villas are the perfect solution for groups of friends or extended family holidaymakers.
Pair up the villas at Kubu. Here are the selection of choices:
Two connecting one-bedroom Villas with pools
Villas 9 & 10 each with a private pool, twin sun-loungers, poolside shower and balé, open-air dining area, living room, guest loo, air-conditioned king-sized bedroom and indoor-outdoor bathroom, plus a spa bath in Villa 10.
Villas 11 & 12 each with private pool, twin sun-loungers, poolside shower and balé, an air-conditioned king-sized bedroom, indoor-outdoor spa bathroom, living and dining areas, guest loo, kitchen and luxury hotel services.
Three bedroom connecting villas with pools
No 2 & 14 – Two connected villas with private pools, two sun-loungers, poolside dining plus open-air living and entertainment areas, air-conditioning in the total of three king-sized suites, plus media room, guest loo and kitchen.
Villas 5 & 6, three-bedroom connecting villas, 1 and 2-bedroom adjacent villas: the 1-bedroom has a private pool with twin sun-loungers and loveseat, air-conditioned king-sized bedroom and dining area, oversized indoor-outdoor bathroom and kitchen; while the huge 2-bedroom features a private pool,
4-bedroom connected villas with pools
Villas 3 & 15, Connected 3 and 1-bedroom villas; the larger with private pool, four sun-loungers, poolside balé, two open-air living areas, air-conditioning in three king-sized suites and media room, 8-seat dining room, kitchen and guest loo.
Hideaway, be private, be social, be adventurous, choose our connecting villas at Villa Kubu resort for your perfect tropical private villa holiday.
And for those wanting to party, book the entire complex, with 27 bedrooms sleeping up to 80 adults and children. We even have two separate apartments suitable for those traveling with their own staff.
#interconnectingvillas
#familyvillaholiday
#privatepoolvilla
#connectingvillas
#combinedvillas
#luxuryvillaholiday