Where to get the best Bali Coffee in Seminyak
One of my favourite things about being on holiday is having the time to linger over excellent coffee and the kind of luxurious breakfast – tropical fruit smoothie, green brekkie bowl, eggs benny, croissants – that I simply never indulge in during the week.  In Bali it's decadently easy to lounge poolside in my private Seminyak Villa and have my concierge bring me an indulgent selection from the room service menu.  And should I want to venture further afield, I feel spoilt for choice because the island of the gods has a plethora of excellent cosmopolitan cafes.  For all you fellow Java heads, here's just a few of my fave places to enjoy a latte-licious cup in beautiful Bali.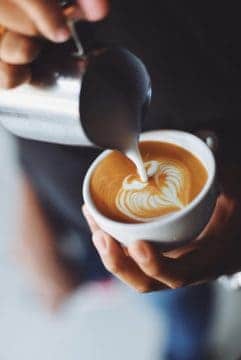 Everything you need to know about Bali Coffee
But first, let me share with you a few fascinating facts about the most excellent Bali Coffee.
Kintamani Coffee – Intriguingly, most of Bali's coffee is grown in the Kintamani region by small local family farmers organized in 'Subak Abians'.  Subiak Abians is a farming system (or ritual way of life, if you will) that's based on the 'Tri Hit Karana' philosophy, which has its roots in Hinduism. 'Tri Hit Karana' translates to "the three sources of prosperity", and the belief focuses on the significance of a healthy, harmonic relationship between man and God, man and fellow man, as well as man and the environment.
In other words, the Kintamani farmers take this concept to heart and essentially refrain from the use of pesticides, insecticides, and other harmful chemicals to produce coffee beans in a natural, organic way that's eco-friendly.  And they've been doing this for centuries, long before any of us in the rest of the world started conscientiously promoting environmentally sound farming practices!
Kintamani Coffee comes from an area that's located in the northern highlands of Bali. This is a place that has all the factors needed for that perfect coffee production process, including a highly favourable climate and rich volcanic soil.  The lands between two main volcanoes, Batukaru and Agung, is where most of the Kintamani coffee cultivation is carried out.
Another interesting facet of Bali Coffee is the processing method. Wet processing is the traditional way of processing coffee in Bali while dry processing is the most common method on the other Indonesian islands, and in most of the rest of the world. In wet-processing the fruit covering the coffee bean (it is actually the seed of the plant) is removed before the beans are dried, in contrast to dry-processing where the entire coffee cherry is dried.
The Balinese brew today is a predominantly Arabica, single-origin specialty coffee with an incredibly smooth body. Its signature taste really shines thanks to the handful of family farmers in Kintamani who take the time to pick the coffee cherries one by one from their coffee trees, many of which are decades-old.
The first thing that hits you is the aroma – citrusy, full-bodied, and oh-so-delightful. Then comes the taste; fruity, chocolatey, and with subtle hints of other familiar flavours, including caramel and brown sugar – it's a wonderful combination that ultimately gives you a coffee that can only be described as voluptuous and lush.
The distinctive tartness of Kintamani Coffee can be attributed to the fact that most of the plantations grow their coffee together with citrus fruits, and this in turn results in a drink that's fruity with a sweet, almost syrupy aftertaste.
Also, here's a fun fact for you light sleepers: don't worry about downing a cup of Kintamani during tea time and losing sleep at night – the brew's caffeine levels are naturally low, making it a good afternoon pick-me-up.
Kopi Luwak is arguably better known as the famous cat poop coffee.  It is coffee brewed from beans that has been through the digestion system of a civet – a cat like mostly nocturnal mammal. The civets eat the coffee cherries for their fleshy pulp, but the beans are left intact all the way through the digestion system. The enzymes inside the civet's stomach extract the bitterness from the coffee, making Kopi Luwak smooth and mild with a sweet aftertaste.
Originally Kopi Luwak was made from beans found in faeces from civets living in the wild, making the collecting process quite time consuming, which explains why prices can get close to $1000 for a kilo of Kopi Luwak. Today however, a lot of Kopi Luwak comes from civets in captivity, which raises some ethical issues and shouldn't taste as good as Kopi Luwak from civets living in the wild as wild civets apparently are quite picky animals when it comes to coffee and only eat the best berries, which guarantees quality beans quality.
Because of these ethical and and animal cruelty issues (the poor civets are kept in tiny wire cages with hardly room to move), we don't recommend buying Kopi Luwak.
Seminyak's best Coffee Hotspots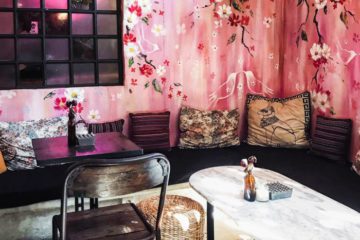 Revolver Espresso – One of the coolest coffee joints in Seminyak, Bali has to be Revolver Espresso.  Traipse down an alleyway, where a dark door leads customers into a dark and large bar area. Keep going till you enter this beautiful pink room. I always feel like I'm walking into a secret speakeasy.
Revolver Espresso utilises a house blend of Guatemala, Colombia and Papua New Guinean beans, and try their Cold Brew: it comes in a glass bottle that you can take away and it's essential to survive a hot day at the beach in Seminyak.
Kynd Community is a cool and trendy plant-based cafe located on Jalan Petitenget. A great place to go for your morning coffee, a healthy breakfast and late lunch when strolling back to your Seminyak villa after spending the day at the beach! The mural paintings and charming sitting nooks, make this cafe a highly Instagrammable hot spot in buzzing Seminyak. Their 'Love Mugs' are quite easy to fall in love with, indeed; hot chocolate crafted with organic, locally-sourced cacao, home-brewed, spiced-up chai tea, green Matcha Late or even the Golden Ayurvedic latte with turmeric and ginger – stopping by here for hot drinks and something sweet is never boring. For breakfast, how about scrambled tofu or smashed avo with coconut feta? Kynd Community has got an innovative menu and the dishes are super duper tasty, too!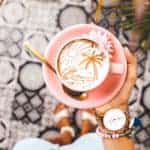 Coffee Cartel
– With a name like
Coffee Cartel
, it's no surprise that this boutique coffee house in Seminyak means serious business when it comes to your daily cuppa. These top dogs are dominating Petitenget's caffeine scene with their unique latte art seen on Instagram feeds around the world. Using their specialist Ripple Machine and using patented printing technology, Coffee Cartel can recreate any image or text right on top of your cappuccino or latte foam. These guys roast their very own blends using both local and imported beans. And I can't get enough of the signature pink interiors, dotted with cute potted cacti, subtle Mexican aesthetics and adorbs golden cutlery. Love!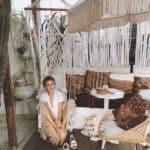 Organic Café
– The garden gangstas of Organic Cafe are true experts when it comes down to healthy food and quirky interiors characterised by original mural artwork. You can come here for healthy vegetarian, vegan or raw food, crafted with organic, locally-produced ingredients.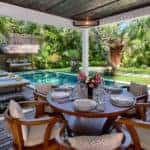 Oasis Restaurant & Bar, Villa Kubu Seminyak
– hidden in the shady laneways behind one of Seminyak's busiest shopping streets, the Oasis Restaurant & Bar at Villa Kubu Seminyak provides welcome respite from the relentless Bali heat.  Take a pew in the private leafy courtyard and sip on an iced almond milk Kintamani latte for a refreshing afternoon pick me up to give you energy for another afternoon on the beach.  Oasis Restaurant make their own blend of coffee made up of Robusta and Arabica with the majority being Common Grounds. So the delicious coffee is 70% smooth with a 30% kick to it. The Oasis Piccolos are the best in town!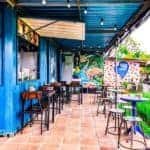 Tropicana Cafe & Churros is located just outside of Seminyak, in the rice fields of Umalas. It is a cool place to get coffee and churros with a view. The exact location is best-kept-secret for it to remain a hidden gem of Seminyak. The setting is utterly tropical with pineapples, flamingos and flowers all around the sitting posts. Get comfy in between the pillows and the murals and take in the rice paddy view while sipping your coffee and letting your taste buds go wild on the Spanish churros. Tropicana Cafe and Churros is tucked in an industrial container, making this place an even cooler hang-out spot for coffee and brunch.
Isn't it time you booked your next Bali holiday?  Contact our friendly reservations team here and let's get this coffee party started!