Is it safe to travel to Seminyak, Bali at the moment?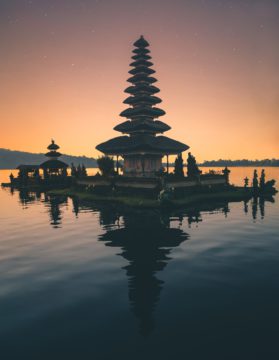 Vibrant green rice paddies, beautiful beaches great for surfing, lush rainforests, architecturally unique temples, luxurious villas, cosmopolitan shopping and a world class dining and bar scene.  There are many ways in which Indonesia's most famous island is a true paradise.
But even in Paradise there were dangers – today the threat of pandemics, volcanoes, tsunamis, earthquakes and more when travelling anywhere is very real.  In combination with the occasional out-of-control tourist on holiday and you may well be wondering, "is Bali safe?"
Whether you're wondering about travelling to Bali with your children, as a solo female traveller or just whether it's safe to visit Bali right now; we'll be giving you our take on those concerns as westerners who have lived in Bali for many years and run a business that sees many international travellers come and go.
How safe is Bali?
The Island of the Gods boasts plenty of natural beauty to discover, its own unique and charming culture and enough benign international influence that it has become a mecca of world class luxury accommodation, fine dining and an emerging fresh and hip café scene with plenty of fun organic and vegan options and healthy choices.  Today there is a ban on single use plastic as Bali works on bringing its environmental policy up to date.  Even the beach hawkers selling local crafts and merchandise are friendly and safe – all registered with the government.
On the whole, Bali is fairly safe but that's not to say it's 100% safe (few places in the world actually are).  It's a fantastic place to visit but we would suggest exercising some caution. Here's what we would suggest being wary of right now: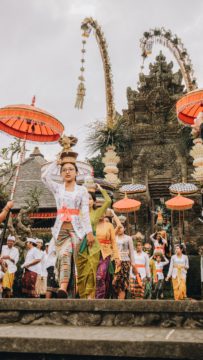 COVID-19
Of course one of the biggest safety concerns we are all facing at the moment is the COVID-19 virus.  The tragic deaths already caused by this pandemic are a sorrow to every country and we are all taking precautions to ensure there are no further fatalities.
We would suggest that it is safe to stay in private villa accommodation, rather than a big hotel, simply for the privacy and extra safety ensured by limiting the number of fellow travellers you and your family may come into contact with.  At our signature estate, Villa Kubu Seminyak, we are ensuring every precaution is taken to ensure all our guests have a safe and comfortable stay.   And really, staying at a luxury private pool villa in the heart of Seminyak, Bali; with 24 hour concierge, room service and on site spa and restaurant…well, it's not exactly a hardship!  Even the wi fi is super safe as it's 5G so no chance of getting zapped by harmful micro waves.
Volcanoes
Indonesia is on the Ring of Fire, an area of high seismic activity. There was an earthquake on Lombok in September 2018, a tsunami in Sulawesi in the same month, and Western Java and South Sumatra suffered a devastating tsunami (due to an offshore submarine volcano) in December 2018.
This is prime volcano country and Bali itself boasts no less than 3 active ones. Modern technology allows scientists to predict when an eruption may happen, but, that being said, there's nothing they can do to stop them. Volcanoes are devastating when they're bad, and even keep flights grounded when they're not so bad.
Eruptions happen frequently here – the latest eruption of Mount Agung began in December 2018 and the volcano is currently active, with minor ash activity happening regularly and affecting nearby villages.  Needless to say, it's important to understand that seismic events happen pretty much all the time here – sometimes they're minor, sometimes very major.
However, Seminyak is over 50km from the peak of Mount Agung – over 45km distant from the caution zone and it is very much still business as usual in Bali. Nature can definitely interrupt tourism and life here, but so far nothing has devastated it outright. People still visit Bali in droves and the island is prepared for the worst. People still go on with their lives and tourists still have an amazing time in Bali.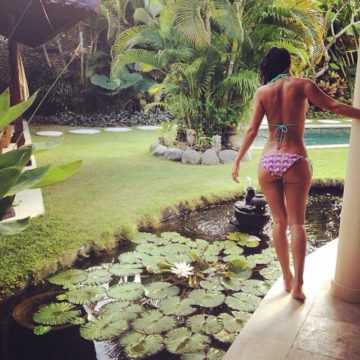 It's safe to visit Bali right now, but just be aware of the current geologic activity and what to do in case of an emergency.
Crime
In July 2019 Bali received more than 5.69 million visitors and that number is on the rise. It's definitely a popular destination.
And whilst petty crime does pose a little bit of a problem, there were only a total of 3,347 criminal cases recorded. That's 1 case per 1,700 tourists and that's a number that down from the year before. Violent crime itself is relatively low as well.
That said, we would advise all visitors to Bali stay away from drugs – getting caught with these can be SERIOUS. Trafficking carries with it the death penalty.  The police can be adamant – they occasionally carry out raids on bars and clubs popular with foreigners, sweeping for drugs. They've even been known to pose as dealers and then conduct "sting" operations, especially in Kuta.
Top Tips for Save Travel in Bali
Keep an eye on your belongings– especially in tourist areas. This is where most pickpocketing and bag snatching occurs.
Mind your credit card– cloning happens, so DON'T let your card out of your sight. Keep it in a money belt with some emergency cash.
There are a number of phony charity programs – if there's an orphanage that's frequented a lot by tourists, then it could be fake. These are sometimes scams and set up to separate you from your cash. Do your research.
Some touts in popular areas can be aggressive – but if you don't want anything, just ignore. That's the best way to go.
Be wary of other scams and cons directed at tourists– from overcharging to rigged money changers…don't be a sucker.
Respect local customs – things like dressing appropriately at local temples is pretty much mandatory.
Be aware of Nyepi (Balinese New Year- March 25 2020) – this is a celebration of silence – for 24 hours there are no lights, no noise, no entertainment, barely any electricity – at least not outside your private villa. But even within your villa, although informal dispensation is given to tourist accommodation – be aware and respect it.
Careful during the rainy season – flooding can occur between October and April.
So IS Seminyak, Bali safe right now?
Bali is a beautiful island with a gentle, intricate culture based in the Hindu religion which is founded in the principle of kindness and politeness to all.  It possesses gorgeous natural beauty galore – from its beaches to its rainforests.  And, although it is a volcanic island, most tourist hotspots – particularly Seminyak – are far enough from any potential danger zone that we feel the unequivocal answer is YES.  Bali is Safe to travel, provided you take some simple, easy precautions and are mindful of local custom and law.  Solo travel is very doable, for both females and males, and the island abounds with facilities to ensure solo travellers have a blast.  There are plenty of fabulous fun kids' activities, both in your private pool villa, and in the rest of Bali; family vacations in Seminyak are an excellent idea.
We look forward to welcoming you here at Villa Kubu Seminyak, on your next holiday trip.