Villa Kubu Seminyak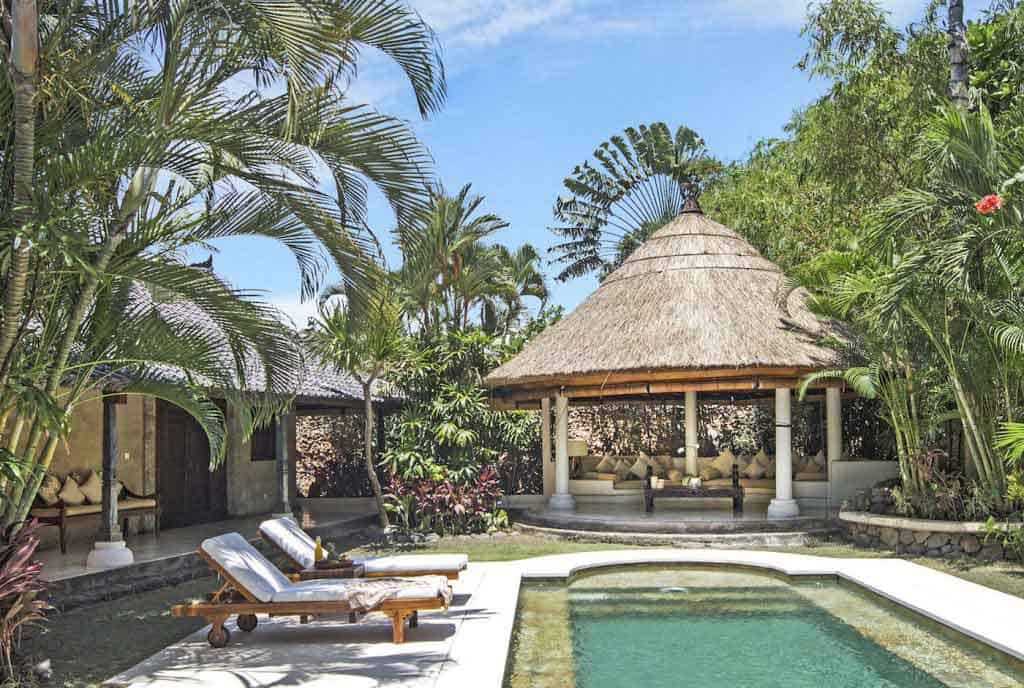 Villa Kubu
Kubu Koncierge™
Nestled in pure serenity, Villa Kubu is a unique and enchanting boutique villa and spa that blends the traditional charm of Balinese design with contemporary elegance offering guests an experience like no other. The property is surrounded by lush tropical greenery to afford guests with ample privacy, the mesmerising enclave combines that with the convenience through their renown Kubu Koncierge™, which tailor's guests' experiences accordingly to their personal preferences at every step of the way.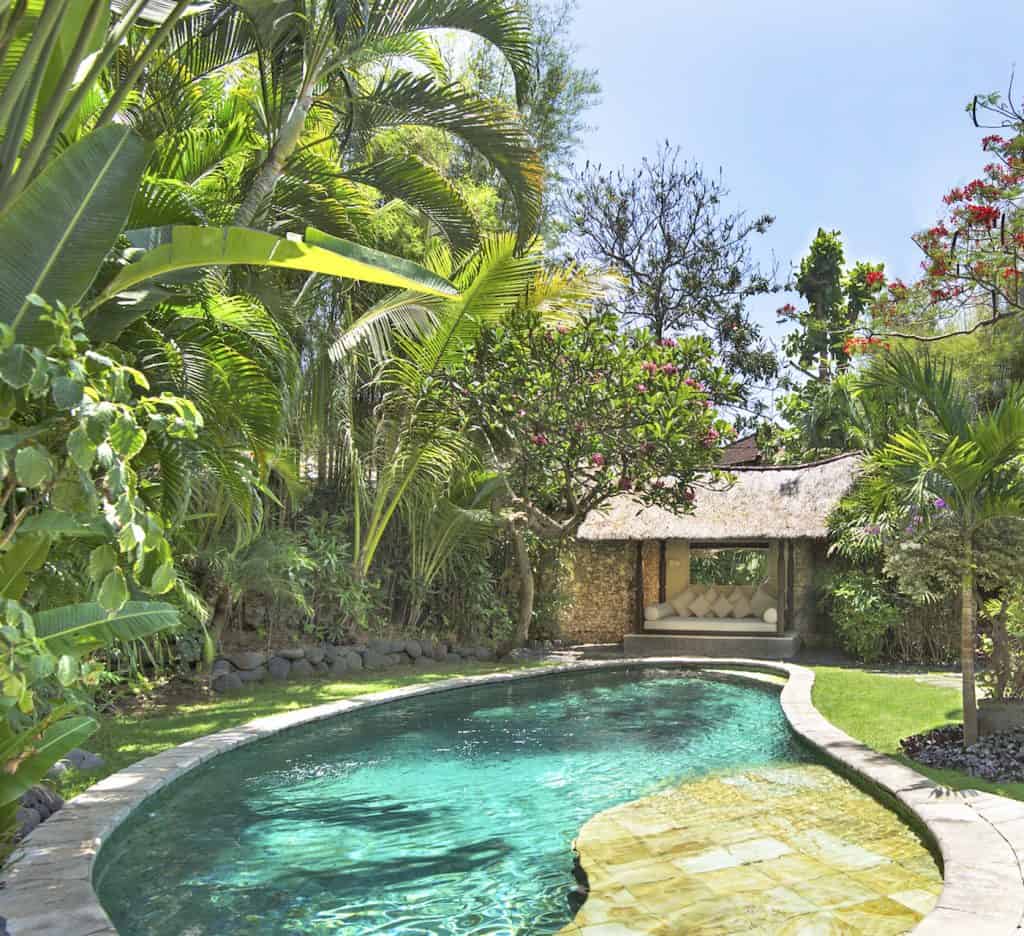 Villa Kubu Deluxe Two Bedroom Private Pool
Located right in the beating heart of Seminyak but nestled down a peaceful laneway. Guests veer away from the hustle and bustle of the city and thoroughly enjoy a heavenly ritual at Spa Venus or dine at the eclectic Oasis restaurant. With 17 beautifully-appointed villas, each with their very own private swimming pool and gardens; Having been one of the very first developments on the island, Kubu is certainly a pioneer when it comes to premium luxury villas. Designed and created by owner, Dee Mytton, who has intimate knowledge of Asian style. Her vision for Kubu, meaning 'home away from home' was to create each villa as a sanctuary, a place to holiday without a care in the world.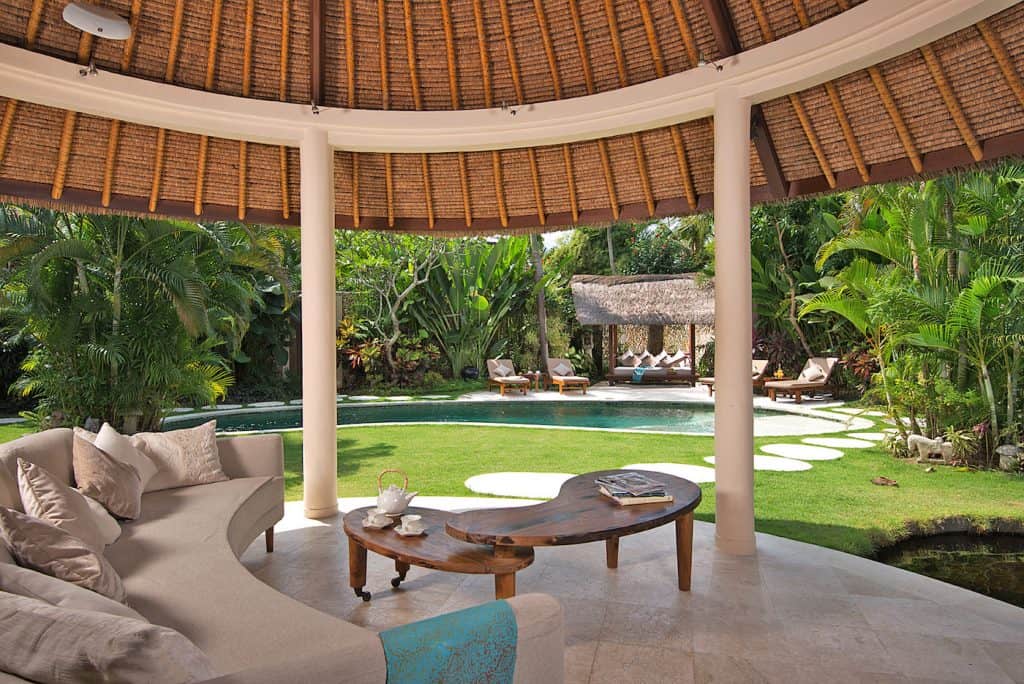 Premium Two Bedroom Living Room Area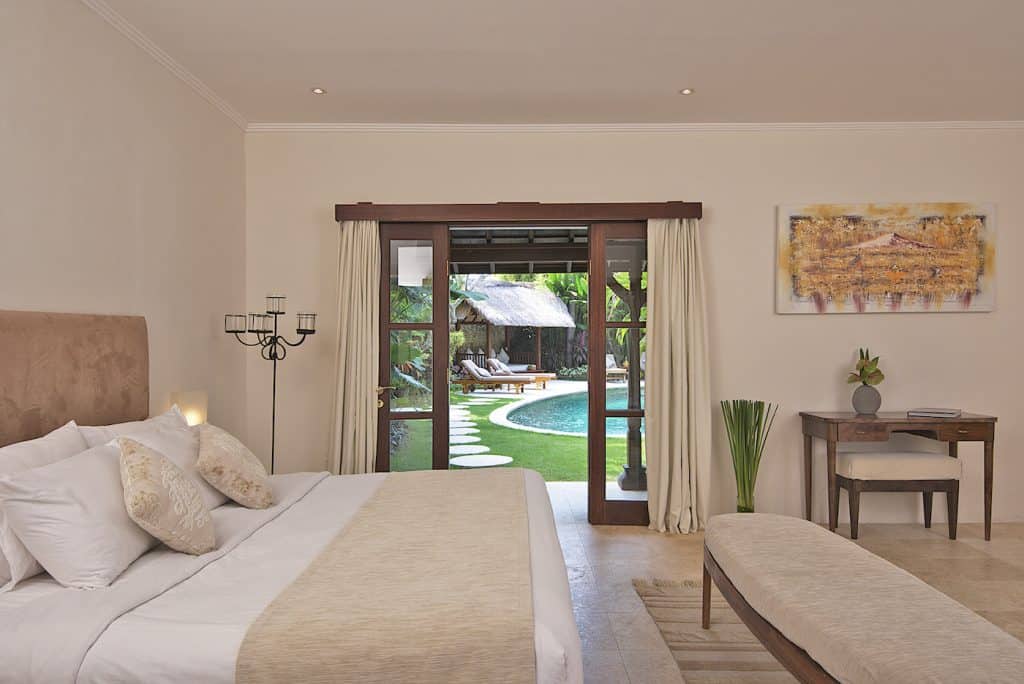 Premium Bedroom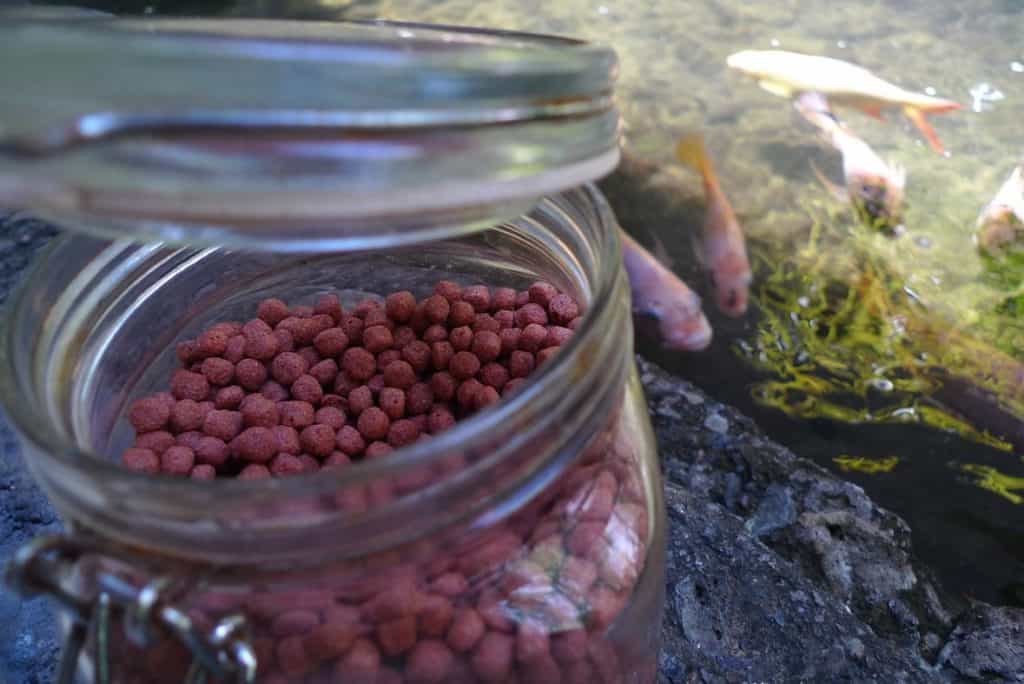 Fish Food provided In-Villa
Each of the 17 individually designed villas has a sense of uniqueness and character to them, with one common theme, a kubu hut is incorporated into the design of each villa. With its tranquil and serene atmosphere, honeymooners will love the tropical romance of the one-bedroom villas, while the two and three-bedroom villas provide ample space for families and larger groups.
Every private villa has a pond brimming with beautiful lotus flowers, koi's that you can feed with the fish food thoughtfully provided in-villa, and a truly inviting sun-baked deck and pool to simply unwind or take a dip in the lovely Balinese weather. Traditional ornate carvings and Jenggala ceramics line the villa further accentuated by the calming cream-coloured walls and a gracefully arched doorway that greets you upon entering the premise.
Guests can escape in true serenity and luxury in the comforts of their villa, whether its staying in to enjoy the soothing breeze and top-notch amenities or stepping out into the trendy streets of Seminyak, there is something for everyone at Villa Kubu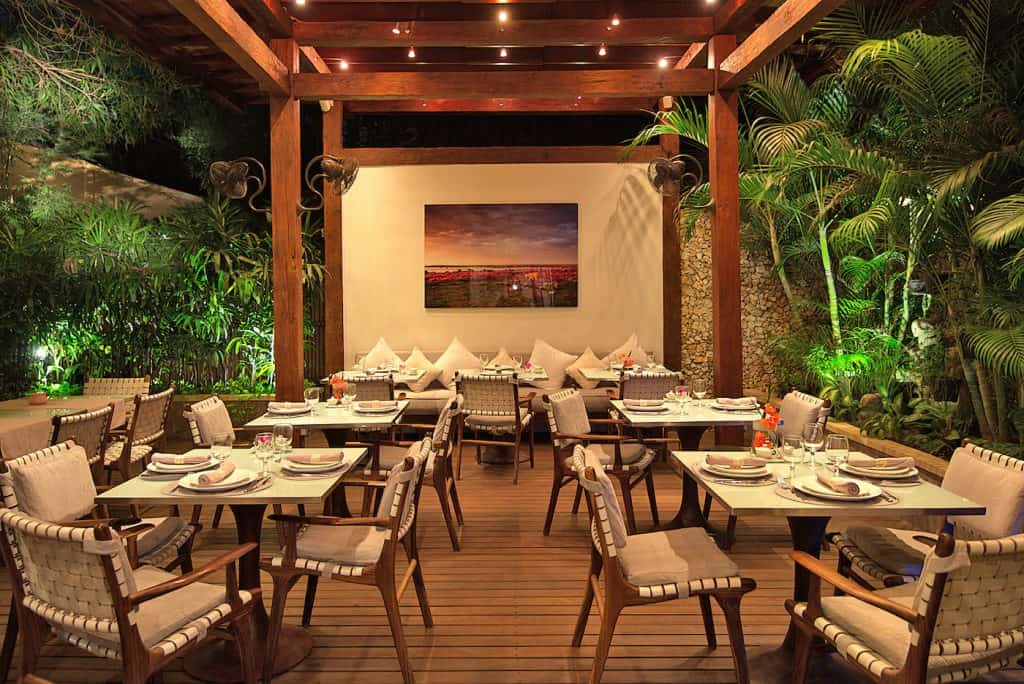 The Oasis Restaurant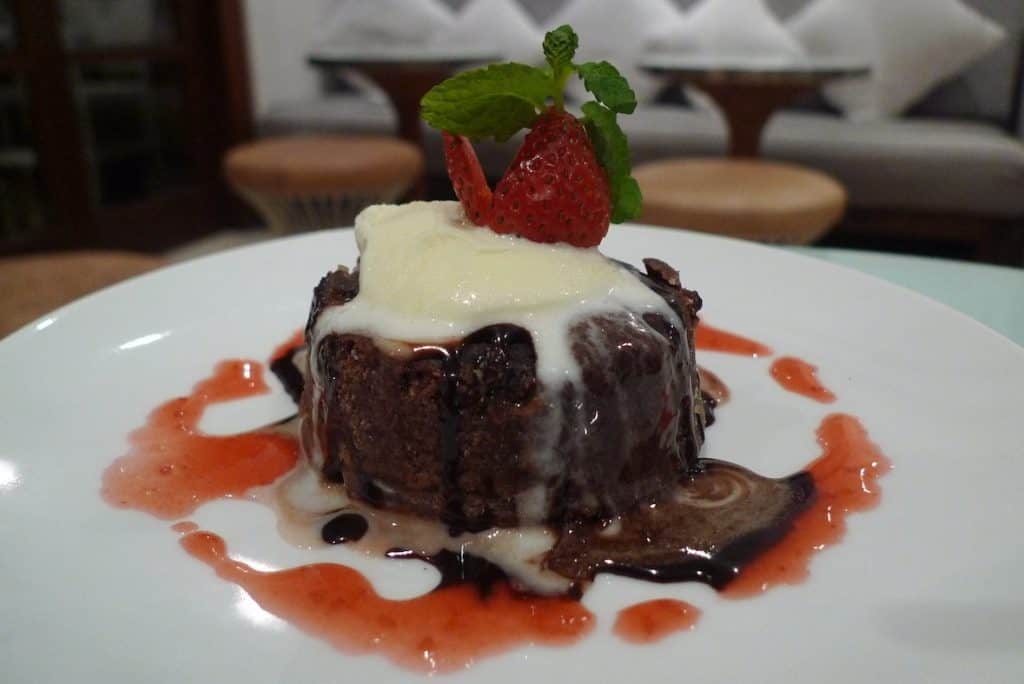 Signature Chocolate Fondant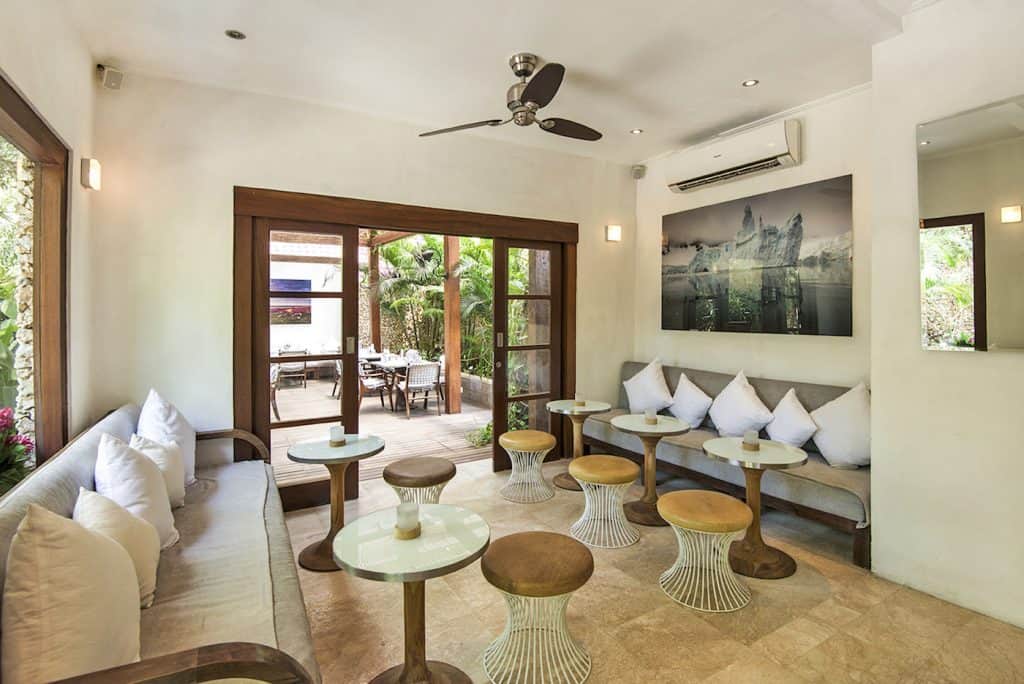 The Oasis Cafe
The Oasis Restaurant and Bar, a quaint restaurant with an international menu that focuses on organic, locally-sourced produce, is nestled amidst bamboo and towering palm trees within the property. The Mediterranean style restaurant, serves up delicious dishes such as their famous nachos, hearty beef rending, fresh salads, mouth-watering gourmet burgers, fragrant pan-seared barramundi as well as breads and bagels freshly baked on site daily.A definite must try is the sublime chocolate fondant, baked to perfection and served with raspberry reduction and smooth creamy vanilla ice cream, the soufflé is fluffy and oozes out with delectable rich dark chocolate when cut open.
For drinks, skilled bartenders prepare classic and signature cocktails which are blended with premium spirits as well as mixers together with the freshest island fruits and spices, while the Kubu cellar has a great selection of quality wines to satisfy all taste buds.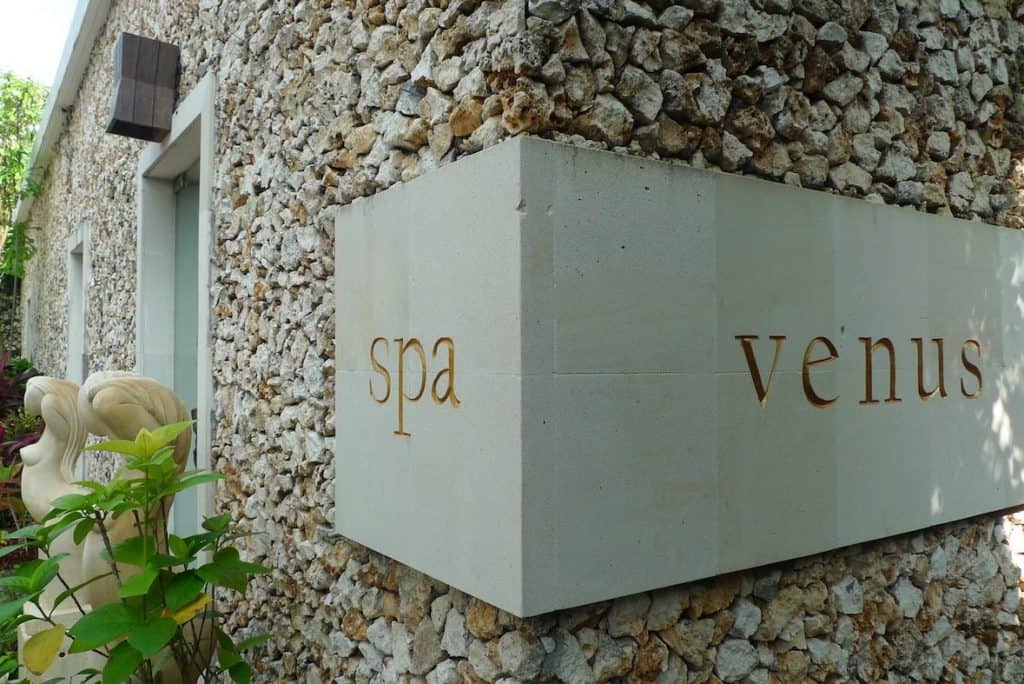 Spa Venus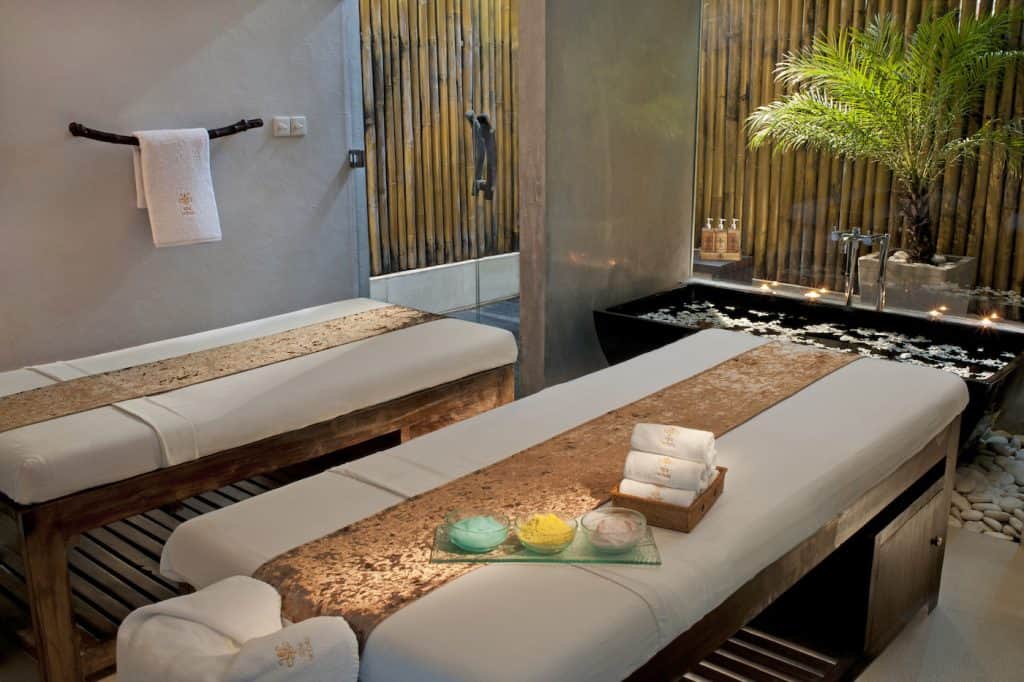 Spa Venus Treatment Room
For a relaxing and holistic spa experience, Spa Venus offers treatments in a comfortable, tranquil and natural environment. Guests can enjoy a variety of wellness packages and treatments with the use of natural organic ingredients and specialising in non-chemical therapies, guests luxuriate with treatments such as the traditional Balinese massage, pearl dust facials, hot stone massages and their unique and extremely popular far infrared sauna.Guests are able to rejuvenate in the luscious surroundings of Spa Venus or have the option of having their treatment arranged in the privacy of their own villa. Spa Venus' commitment also goes beyond beauty to include metaphysical healing offered by world-renowned healers who seek out Villa Kubu as their own sanctuary when travelling abroad. With such emphasis on the well-being of all guests, Villa Kubu ensures for a great stay at every visit to sunny Seminyak.
ADDRESS: Jl Raya Seminyak, Gang Plawa No 33F, Seminyak, Bali, Indonesia 80361
PHONE: +62 361 731 129/ +61 2 8091 7129
EMAIL: www.kubuvillasseminyak.com/contact-us/
WEBSITE: www.kubuvillasseminyak.com