Oasis In The Heart of Seminyak, Bali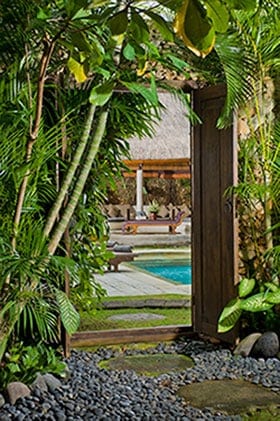 Welcome to beautiful Bali…
What do you think of when you think of Bali? For us, it is a land of many contrasts: peaceful verdant rice paddies, tropical beaches and lush rainforests interspersed with famously hectic traffic, bustling crowds and cosmopolitan hustle.
In the midst of one of the busiest tourist hubs of Bali, Seminyak – we have chosen to create an accommodation oasis, a haven, for weary travellers to rest and refresh themselves. Recently we were delighted to host journalist Angie Kelly at our flagship Villa Kubu Seminyak. Angie's experience with us reflected the satisfaction we hear so often from our guests, you can find her full article here
Relax & Refresh with Us
We understand the restorative power of nature so have designed Villa Kubu, and our sister estate Lataliana Villas to be set amidst tall green trees for clean air and shade. Our gardens are unique, full of species chosen for their environmental sustainability as well as their beauty. We surround our properties with high, solid stone walls – to ensure privacy and to reduce noise pollution. We know our guests want to be in the heart of the Seminyak action: the best spas and shops but when they are done exploring and having adventures during the day, we want them to be able to relax in tranquility at their private Villa.
There is an atmosphere that speaks distinctively of Bali that is carried throughout our Villas and identified by Angie beautifully in her article. She writes of luxurious open air bathrooms with huge rose petal filled tubs, fairylit magical Bali sunset and night scenes and delicious many course meals made just for you by our private chefs. A daybed or covered lounge by your private pool is the perfect place to while away a few hours dreaming or reading. There is no better place on the world to unwind from the stresses of your day to day life and be pampered in an authentically Balinese way.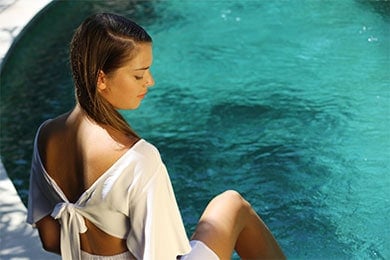 Have a Unique Experience
At Villa Kubu Seminyak we pride ourselves on providing bespoke accommodation in Bali that caters to you as an individual at every turn. As Angie noted, we are not an impersonal, big name resort. With us everything from your room service to your food preferences is noted and adjusted to make your stay as comfortable as possible. Our friendly, capable staff will even look after you when you are out exploring, making themselves available via whatsapp for recommendations, directions and translations, should they be required.
Make New Friends
We want our guests to become our friends as we believe that is the true meaning of hospitality. Of our 17 villas, 10 can be connected by gorgeous antique wooden doors, meaning larger families or groups of friends can share meals and poolside chilling but also enjoy their privacy with discreet bedroom and living area separation.
Bali is often called the Island of the Gods, it is a place that exudes charm and allure as well as being home to a dynamic nightlife and providing many interesting, exotic activities for the wandering traveller. Off the main road, down a winding lane, full of beauty and mystery, you will find us – just waiting to give you the Bali private villa experience of a lifetime.