Open House at Villa Kubu, Seminyak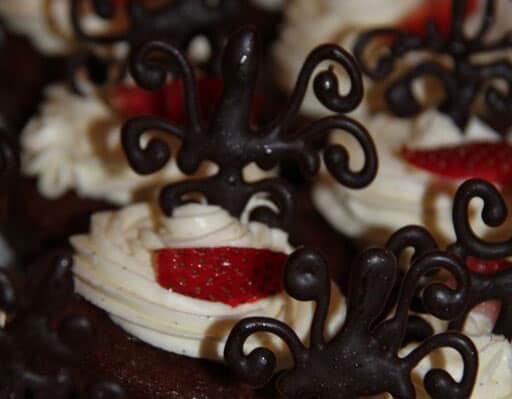 Upon arrival at Villa Kubu I was greeted by the a sound of delightful live local music, plentiful smiling Kubu staff who ushered me into a spacious three- bedroom villa in I was handed a zesty mocktail garnished with floating tropical fruit and flowers. Whilst munching down a tasty canapé I listened to the hum off other guests eager to embark on an exclusive tour of all that Villa Kubu has to offer. Some guests sat and chatted by the pool whilst being pampered with a complimentary massage from the elegantly dressed Spa Venus staff, whilst others nibbled on delicious eats prepared by Kubu' Oasis Restaurant & Bar, what a way to start an evening!
The tour was an amazing access-all-areas experience where you really got a feel of what Villa Kubu strives to offer its guests; an opulent, personalised retreat for couples, wedding parties or families. Each private pool villa is uniquely designed each with a stunning turquoise pools, beautiful Balinese design touches, spacious open plan living areas and romantic outside areas.
All villas are surrounded by carefully considered landscapes of tropical gardens sweeping around the pool to give the feeling of maximum natural seclusion/serenity and peace.
One of the larger villas had been set up for a stylish wedding ceremony – the whole makeup of Kubu lends itself perfectly to wedding parties with beautiful spaces and even connecting villas. Simply stunning – very tastefully decorated with enormous bunches of white flowers and sprinklings of rose petals with the sparkling pool as the perfect, elegant backdrop.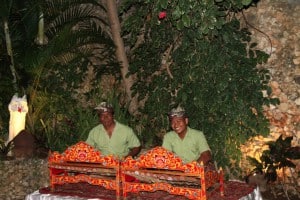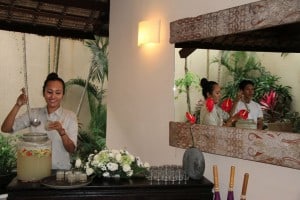 Highlights have to be the unique and exceptional rockery bathrooms with unbelievably beautiful outside shower spaces and jacuzzi baths. I also loved that many of the villas you entered over a path of stepping stones across a carp filed pond, so magical! Exploring each villa felt like sneaking into a luxurious private haven.
After our extensive and informative tour of the wide range of villas we headed back to (BVilla 6) where a large BBQ buffet, bar and live band was calling us – wow what a great buzz! The food provided by The Oasis Restaurant was incredible – I had a mountain of it piled on my plate. I particularly enjoyed the mouth-watering Indonesian shredded chicken salad and BBQ squid. After we had all stuffed our faces and slurped down some dangerously delicious cocktails, many of the guests couldn't resist the temptation of karaoke accompanied by the live band poolside.
After some very lucky guests got their hands on some fabulous prizes including an spa weekend at Spa Venus, the party ended on a high! The whole evening was such a success, with Villa Kubu's staff tending to every guest's need and their attention to detail blew me away. Looking forward to the next one!#villakubu
#iliketoparty #wonderfulwedding #tropicalparadise #heartofseminyak #spavenus #oasisrestaurant #elitehavens #bali #elegantescapism #luxurylife #spavenus #seminyak #bali
https://www.kubuvillasseminyak.com