A day in the life of a Chef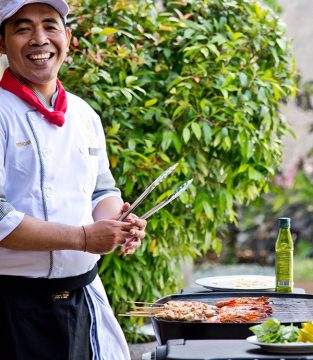 It's 5am, and still dark as the sun is yet to rise over the rice paddies and beaches of Bali, the fresh food market on Lio Square is buzzing with excited chatter in the local language, Bahasa. Voices rise as bargaining gets heated and people jostle for space at the colourful piles of fresh fruit and vegetables, seafood, meat & spices. Villa Kubu head Chef Artana is here regularly to make sure the best ingredients are sourced for his kitchen.
With a menu covering a comprehensive selection of Western favourites as well as local delicacies, Chef Artana has his favourite stallholders to visit, whose produce he trusts to be spray free and good quality. He is also constantly looking for new ideas to keep the menu relevant and interesting so he talks to knowledgeable stallholders about new product lines or new ideas for ancient local ingredients. Always touching, smelling and tasting as he works his way through the busy market.
By 7am Chef Artana is in the huge, gleaming stainless steel kitchens at Villa Kubu. He and his kitchen team take delivery of fresh fruit and vegetables, best quality meat and seafood as well as dry goods. He gives his team of sous chefs precise instructions on how each ingredient is to be prepped and stored and discusses with them what his plans for its use are. This is a kitchen team that has been working together for years and they know each other's strengths well, they having a working rhythm that is beautiful as well as functional and it's the villa guests that get the benefit with fresh, delicious food delivered to them either in the picturesque Oasis restaurant, or in the comfort of their private villa.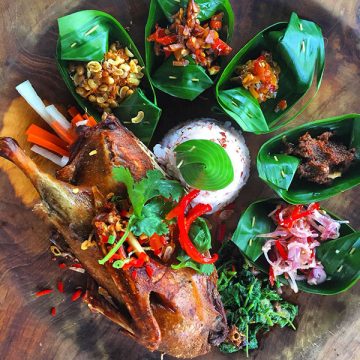 The chefs spend some time each morning sharpening their knives and prepping the ingredients for the day: fruit and vegetables, specialty grains are given as much care and attention as the best quality prawns, sea bass, sirloin and fillet. Villa Kubu has a well-earned reputation for clean, delicious food and it's the care of each component part as well as assembling the finished dish that make all the difference to the final plate of food.
Often around mid-morning Chef Artan prepares a filling Nasi Campur (rice and side dishes of meat and vegetables as well as a couple of fresh sambals) meal for his team. These chefs all work hard, and he likes to feed them up to make sure they have plenty of energy!
Generally by midday the kitchen is bustling with orders from the busy Oasis restaurant, as well as delivery orders to the private villas. Regularly a guest makes a special request for a dish not on the menu and the kitchen team is more than happy to fulfil these requests if possible. As head Chef, Artana monitors the assemblage and presentation of each dish that leaves his kitchen.
Quite often there is a post lunch lull around 3.30pm so that is when the kitchen staff are able to have a bit of a break, rest their weary feet for a while and get some fresh air.
Then it's back for evening prep and the night's dinner orders are often in full swing by 5pm. It's a busy day and Artana customarily works 6 days a week but for a chef like him, cooking and food are in his blood and he wouldn't have it any other way. He is passionate about giving guests an exemplary fine dining experience as well as ensuring the absolute freshness and quality of everything that comes out of his kitchen. He loves coming up with new ideas and innovative flavours to offer people because he loves seeing guests' joy at eating good food.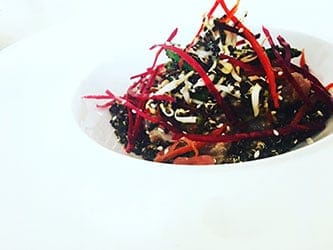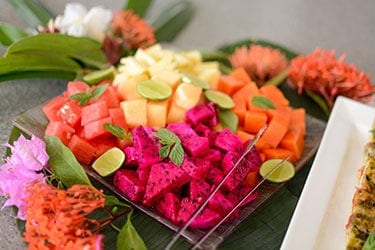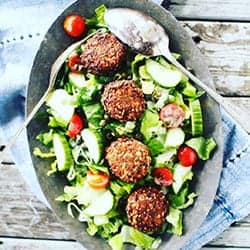 By 9pm generally the orders are slowing down and this is when Chef Artana makes his round of front of house staff to get feedback on the day and consider if there are improvements that can be made or if it's time to retire an old dish and introduce a new exciting idea. The rest of the kitchen staff do the bulk of the cleaning at this time, each surface has to be wiped down and disinfected, stovetops & inside each oven scoured, fridges & store cupboards are cleaned and rotated daily. This is life in a commercial kitchen, ever mindful of hygiene and freshness of ingredients.
Chef Artana surveys the produce he has left for the day and phones orders in to his trusted suppliers that deliver top quality goods. He works out if he'd like to offer a special the next day when exciting ingredients like asparagus or oysters are in season.
By the end of the night, the kitchens are spotless and orderly, the villa and restaurant guests are satisfied and full, the rest of the kitchen staff have gone home. Chef Artana takes one last tour of his domain, checking everything is in order and turning off lights as he goes. It's time for a well-earned rest but he looks forward to being back tomorrow. For a good chef this life is a passion and it's a privilege to be paid to do this thing he loves on a daily basis.
Villa Kubu with its in-house Oasis restaurant sits in the heart of Seminyak, Bali.  Click here to book your private villa with private pool for your next holiday or simply drop in and have a luscious meal at the tropical Oasis restaurant on site.  We also offer local market tours and cooking classes, on request, click here to enquire about availability.