Experience Bali's Active Volcanoes

If you are looking for a one of a kind, exciting vacation experience, consider adding a volcano tour to your itinerary. Bali has two active volcanoes, Batur and Agung, that are easily accessible by bus, private tour, or even helicopter from Villa Kubu in Seminyak. Bali's volcanoes offer unparalleled scenic beauty and hold the keys to sacred Balinese cultural beliefs. Whether you are an outdoorsman and want to experience natural wonders of Bali or are interested in learning more about Balinese culture and history, you will love experiencing Bali's active volcanoes.
Touring Mount Batur
Deep in the lush jungles, surrounded by natural springs, you can find Bali's most active volcano Mount Batur. Mount Batur is a sacred Hindu mountain and an extremely popular destination for both local Balinese and tourists. We recommend taking the sunrise trek, which is a moderate 2-hour hike to the summit where you will watch the sun rise above the summit while you eat a traditional Balinese breakfast cooked by the steam of the volcano. If you are a really lucky you may see a lava flow from the summit or flank vents. Make sure to also visit Pancering Jagat Temple in nearby Trunyan to see the four-meter statue called "Arca Da Tonta."
The Pancering Jagat Temple is still an active place of worship and if you are fortunate enough to visit in October, you may experience the Purnamaning Sasih Kapat religious ceremony honoring the many blessings from Mount Batur. At Mt Batur there is also a beautiful lake at the bottom with cold and hot spring healing sulphur water. It's very therapeutic after climbing the mountain but if you are feeling lazy, just jump straight into the 29 degree hot water and relax for hours. You can cool off in the cool water next door. We guarantee you will never sleep better.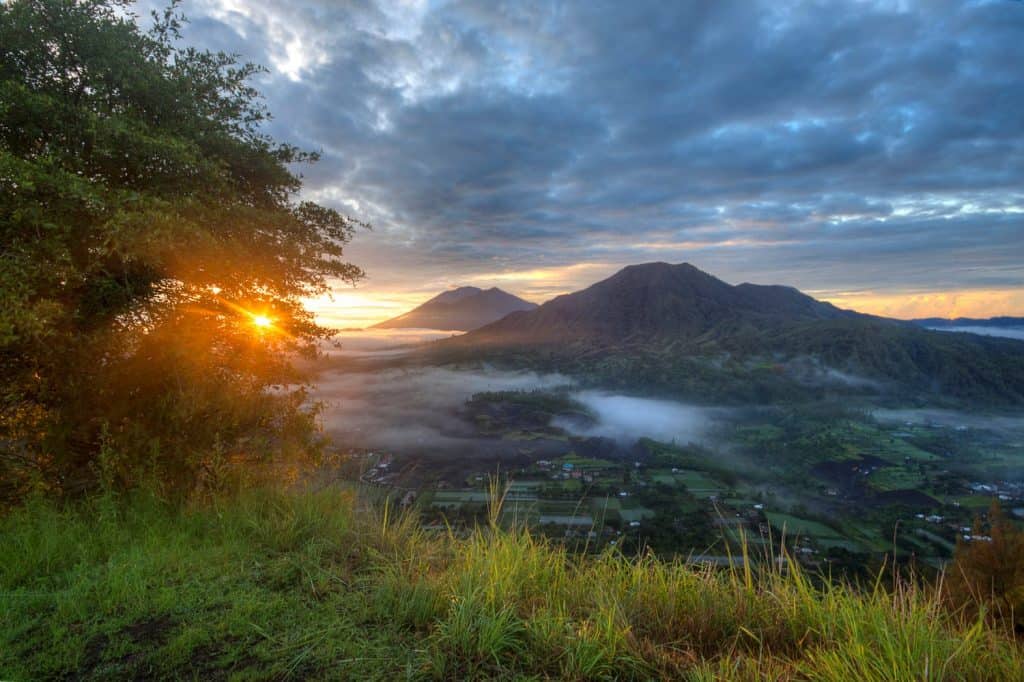 Mount Batur in Bali
Touring Mount Agung
The tallest point on the island, Mount Agung's summit reaches 3,031 meters. Mount Agung is the most important volcano in Balinese culture. The Balinese believe this majestic mountain is the replica of Mount Meru, the center of the spiritual universe. Many Balinese take a scared pilgrimage to Mount Agung to worship at the 1,000-year-old summit temple Pura Besakih, also known as the "Mother Temple." We highly recommend visiting Pura Besakih for a unique cultural experience. There are over 70 different ceremonies held at Pura Besakih, so you should talk to the knowledgeable concierges at Villa Kubu to schedule the perfect time. There are also two hiking trails to the summit that take 4-5 hours, so they are recommended for experienced hikers, though either can be taken without a tour guide. From the peak you can experience a 360-degree view of surrounding rice paddies, jungles, mountains, and streams. Don't forget to schedule a visit to a nearby hot springs to relax and feel the stress of life melt away from the bubbling mineral waters.
Experience Balinese Hospitality
At Villa Kubu, we honor the traditions of Balinese hospitality to ensure that you have the best vacation experience possible. If you are considering taking a tour of either of Bali's incredible active volcanoes, talk to one of our friendly concierges. We can help you design the perfect vacation that includes all the amazing sites on the island. If you have to cancel your trip for any reason, don't worry. You can still reschedule without losing your money. We offer a 100% vacation credit for one year from cancellation because more than anything, at Villa Kubu we want you to experience the natural wonders of Bali with us.