Surf and Swim Safety courtesy of Villa Kubu's swim expert and alaia board champion Barney Quinlan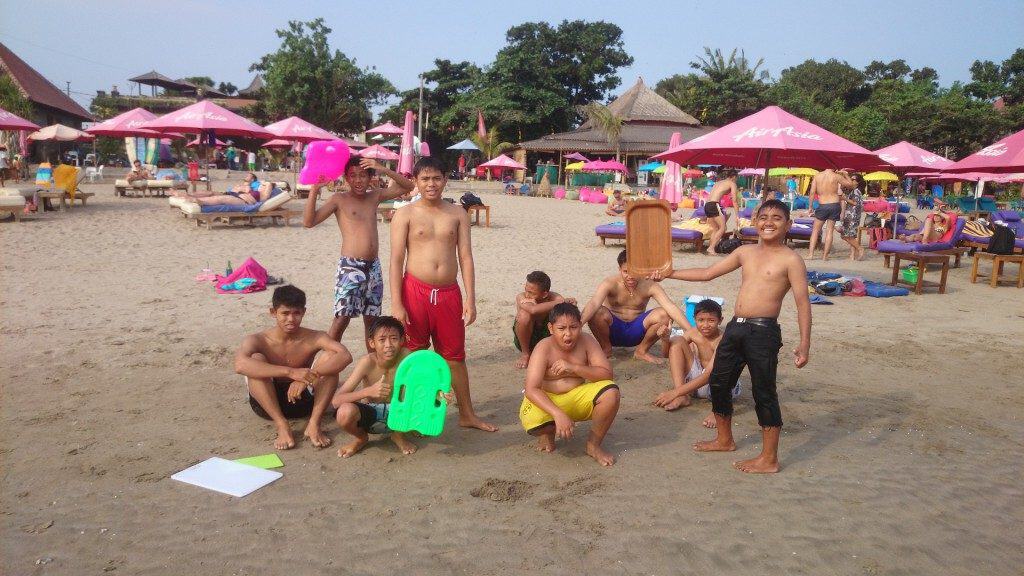 Welcome to vibrant Seminyak. My name is Barney Quinlan. I live on the East Coast of Australia and have the unique job of teaching swimming & water safety specifically for the moving water (surf) environment.
My connection to Seminyak began in the 1990s as a young surfer visiting my resident father numerous times and continues to the present through the running of the Real Swim Indonesia Project, teaching water safety for free to Balinese kids. I recently returned to Seminyak and stayed with my family in one of the gorgeous Villa Kubu villas close to the beach. Whilst in Bali I taught local kids and expat children key elements of water safety that I am sharing below.
When it comes to the beach at Seminyak visitors need to be respectful of its serious and potentially dangerous power. Seminyak beach is exposed to the raw energy of swell generated far away in the Indian Ocean thanks to its South Westerly aspect (also good for sunsets! ). Entering the water at Seminyak beach is high risk but also very alluring & refreshing. Here are a few tips.
Don't swim! Sounds horrible but what I mean by this is to put into practice the act of 'surf bathing' or 'mandi laut' . Find an area with waves, more waves indicates shallower water. When entering the water abide by the strict rule of staying waist deep or less. (Knee deep if too powerful). Keep your feet on the sand & practice ducking under waves, gliding (bodysurfing) with waves, splashing, spinning but not 'swimming'. By taking your feet off the sand, going deeper than your waist, you put yourself at far greater risk of currents that can take you away from shore. Stay shallow. Walk in, walk out.
Head south/left. Whether you are surfing, or just 'surf bathing' heading south (left when looking out to sea ) towards Legian & Kuta will lead you to smaller waves, less power. Not necessarily 'safe' but far better than heading north west ( right ) towards Canggu which will lead to more power, more dangerous currents.
Use local knowledge; Lifeguards patrol the stretch at Seminyak/Legian, they wear red & yellow. Surf instructors are available along the whole stretch and are experts. Use them, talk, ask questions. Also look out for small red flags that indicate particularly dangerous areas. Be aware.
If in doubt, stick to the pool. Watch the surf, don't enter. Don't underestimate the Seminyak surf. It is seriously powerful. Respect it.
I hope you enjoy your stay in this exciting part of Bali. I hope these tips are helpful and with respect and help from the locals, enjoy the surf!
For those who can ride a board already, if you can't find a descent sandbank at Seminyak head south about 1 km (easy walk) to the stretch in front of the Padma hotel. Particularly at high tide there is a good permanent right & left there with a great crew of local surfers to go with it. Selamat Mandi Laut!
Click through to my recent article in the West Australian
About Barney
Barney, 32, an Hawaiian-style alaia board champion and accredited swim-surf teacher from Sydney's Bondi Beach, is on a professional mission to share with Balinese kids the water survival skills he has taught to hundreds of Australians.